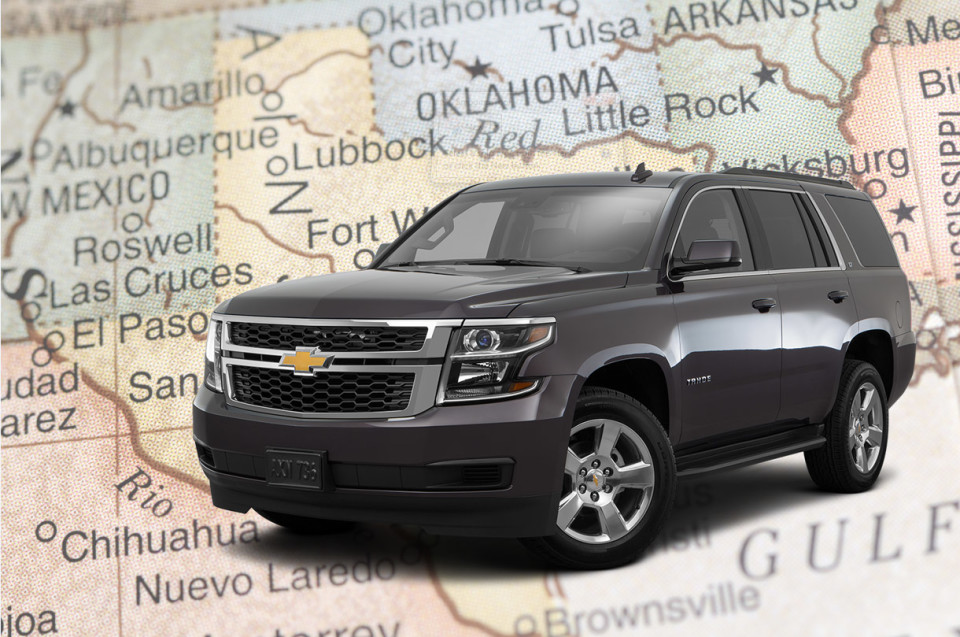 Take a long road trip in the Chevy Tahoe for a comfortable and fun experience. You will enjoy the seating for up to nine passengers so you can take the entire family or a large group of friends. The entertainment system keeps you occupied and there is even OnStar 4G LTE so your passengers can connect to the Internet while you are driving. Best of all, you can go hundreds of miles in the 2016 Tahoe before you have to stop for gas.
Chevy Tahoe Engine and Range
The 2016 Tahoe only comes with one engine, a 5.3-liter V8, so it is fairly easy to figure out the range based on fuel efficiency. This engine always gets 16 mpg in the city and 18 mpg combined*. If you configure your Chevrolet Tahoe with rear-wheel drive, you will get 23 mpg on the highway*; 4-wheel-drive models get 22 mpg*. Since the fuel tank is an impressive 26 gallons, you can drive all day without having to stop to fill up.
With either drivetrain, you can take your 2016 Chevy Tahoe 416 miles in the city or 468 miles with combined driving. Depending on the drivetrain, your SUV can go 572 or 598 miles on the highway.
Putting It in Perspective
Simply reading the mileage range of the Chevy Tahoe probably won't give you a good idea of where you can go on a single tank. To give you a better idea, Dallas is only about 85 miles from Sulphur Springs. That means that even if you stop along the way and drive around towns, you can go from Sulphur Springs to Dallas and back again 5 times and end with an extra trip to Dallas. If you want to actually drive to a far-flung destination, combined driving in the Tahoe can take you all the way to Wichita, Kansas, or Memphis, Tennessee, with gas left in the tank. You can even get all the way to New Orleans on a single tank, depending on the route you take.
Visit Jay Hodge Chevrolet in Sulphur Springs, Texas, to get a feel for the features that make the 2016 Chevy Tahoe perfect for long drives.
*Based on EPA mileage ratings. Use for comparison purposes only. Your mileage will vary depending on how you drive and maintain your vehicle, driving conditions and other factors.